Believe in WE,


and let's work together to help you be well through counseling.
At Certus, we use the words "counseling" and "therapy" interchangeably, so it's really up to you what you want to call it. Whatever term you prefer, know that our therapists are here to help you achieve the right outcome. Counseling/therapy may be used in conjunction with other courses of treatment your medical care provider suggests as part of your overall care plan.
Whether you're facing depression, anxiety, PTSD brought on by physical or sexual abuse, eating disorders, bipolar disorder, or you and your partner are having difficulties, our therapists are experienced professionals in helping you achieve the right outcomes.
Note that we welcome patients as young as 13. Contact us to learn more.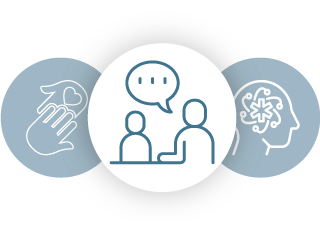 Acceptance and Commitment Therapy (ACT)
This form of cognitive-behavioral psychotherapy uses mindfulness and behavioral activation to increase your ability to engage in values-based, positive behaviors while experiencing difficult thoughts, emotions, or sensations.
ACT has been shown to increase effective action; reduce dysfunctional thoughts, feelings, and behaviors; and alleviate psychological distress for individuals with a broad range of mental health issues (including DSM-IV diagnoses, coping with chronic illness, and workplace stress). ACT establishes psychological flexibility by focusing on several core processes.
Cognitive Behavioral Therapy (CBT)
CBT is a form of therapy that works to modify dysfunctional emotions, behaviors, and thoughts by focusing on solutions where the patients to challenge distorted cognitions and change destructive behavior patterns.
Dialectical Behavior Therapy (DBT)
Dr. Marsha Linehan developed DBT in the 1980s to address and treat Borderline Personality Disorder. It is a comprehensive, evidence-based treatment that uses a cognitive-behavioral approach that is also supportive and collaborative. Research on its effectiveness in treating other conditions has been life-changing for those struggling with: depression, substance abuse, post-traumatic stress disorder, traumatic brain disorder, anxiety disorder, eating disorders, and bipolar disorders. It involves the four modules of treatment, including:
distress tolerance
emotion regulation
mindfulness
interpersonal effectiveness
Eye Movement Desensitization and Reprocessing (EMDR)
EMDR is a type of therapy that enables patients to heal from the symptoms and emotional distress resulting from trauma. Studies show that EMDR can help patients experience the benefits of psychotherapy that can take years. It is often assumed that severe trauma requires a long time to overcome. EMDR therapy shows that the mind can heal from psychological trauma much as the body recovers from physical trauma. Using the detailed protocols and procedures learned in EMDR therapy training sessions, our
certified EMDR therapists help patients activate their natural healing processes.
Motivational Interviewing (MI)
MI is a goal-oriented, client-centered counseling style that works to explore and resolve ambivalence about getting better. Compared with non-directive counseling, MI is more focused and goal-directed. It departs from traditional Rogerian client-centered therapy through this use of direction, in which therapists attempt to influence clients to consider making changes rather than non-directly explore themselves. The examination and resolution of ambivalence is a central purpose, and the counselor is intentionally directive in pursuing a set goal.
Solution-Focused Therapy also called Solution-Focused Brief Therapy (SFBT)
This therapy places focus on discussing solutions, as opposed to dwelling on the challenges are. Of course, you must discuss the problem to find a solution, but beyond understanding what the problem is and deciding how to address it, SFBT does not dwell on every little detail of the problem you are experiencing.
Trauma-Focused Cognitive Behavioral Therapy (TFCBT)
TFCBT addresses the specific needs of children, adolescents, adult survivors, and families seeking to overcome the devastating effects of trauma. Anyone who has experienced a single or repeated experience of physical, sexual, or emotional abuse or who have developed Post Traumatic Stress Disorder, depression, substance use, and anxiety can benefit from this type of therapy.
Acceptance of private experiences (i.e., willingness to experience odd or uncomfortable thoughts, feelings, or physical sensations in the service of response flexibility)
Cognitive defusion or emotional separation/distancing (i.e., observing one's uncomfortable thoughts without automatically taking them literally or attaching any particular value to them)
Being present (i.e., being able to direct attention flexibly and voluntarily to present external and internal events rather than automatically focusing on the past or future)
A perspective-taking sense of self (i.e., being in touch with a sense of ongoing awareness)
Identification of personally important values
Commitment to action for achieving the personal values identified
Sometimes you just need to talk to someone.
We're great at listening!
Contact us to schedule an appointment with one of our therapists.
Let's Move Forward Together